Welcome to our new website!
I'm really excited to welcome you to this exciting new space. Now that you're here, I hope you take a few moments to click around and explore!
But why did we need a new website, you might ask?
Well put simply, our previous website had sadly exceeded its use-by date. It served us well since 2017, but had reached the point where we will actually save money by launching a new site rather than maintaining the old one!
That means more money for our ministry partners, which I'm sure you'll agree is a great reason to make a change!
And the need for it to be replaced was the perfect opportunity for a new coat of paint.
While WorldShare has been continuously evolving over the past decade, our look-and-feel hasn't.
So, over the past few months, we've been working on an updated look to help us clearly communicate to our supporters, both current and future.
As we embarked on this project, there were three things that were critical to me:
1. That we keep Jesus at the centre of WorldShare
We are unashamedly and passionately Christian. This links all the way back to our roots as an evangelistic organisation, and I'm incredibly proud of the way that today we work with our ministry partners to help the poor and share the gospel. I hope you enjoy the way that we've emphasised the good news of the gospel, particularly in the language throughout the site.
2. That we celebrate our partners
Our ministry partners are the real heroes of WorldShare – they are on the front lines, facing incredible hardship and suffering, with such great faith and perseverance. I really wanted to make sure our partners were showcased on our website and in our language. I'd encourage you to check out the 'Our Partners' page, click on the interactive map and learn a bit more about who our partners are!
3. That we help our ministry partners by engaging new supporters
We want our ministry partners to be blessed with an abundance of resources so that they can truly transform their communities. We also would love to take on more ministry partners, so that we can resource and bless even more Christian organisations who are serving the outcast and forgotten overseas! But to do this, we need to reach and inspire more supporters. A new website and a modern look will help us with attracting and inspiring new and especially younger supporters.
What does the logo mean?
I'm glad you asked!
The icon is loosely (some might say very loosely!) inspired by the shape of the icon in our previous logo. But now infused with some new meaning.
The orange and the yellow coming together represents our supporters in Australia and our ministry partners overseas joining together with a common goal.
The red at the apex represents the combined impact of when believers come together in unity. It also represents the transforming power of God to take the humble things that we bring and then bless and increase!
The font in our logo has been chosen because it is especially designed for greater legibility for people with low vision.
We hope you like this new look! Thank you to those of you who helped provide input throughout this process. If you have any questions or feedback, I'd love to hear from you (why not try out the Contact Us page to get in touch?)
God bless,
Joanna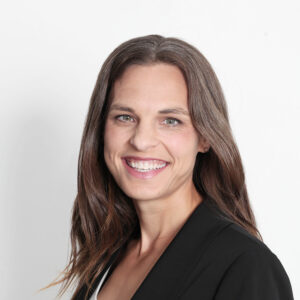 Joanna Mansfield
Chief Executive Officer