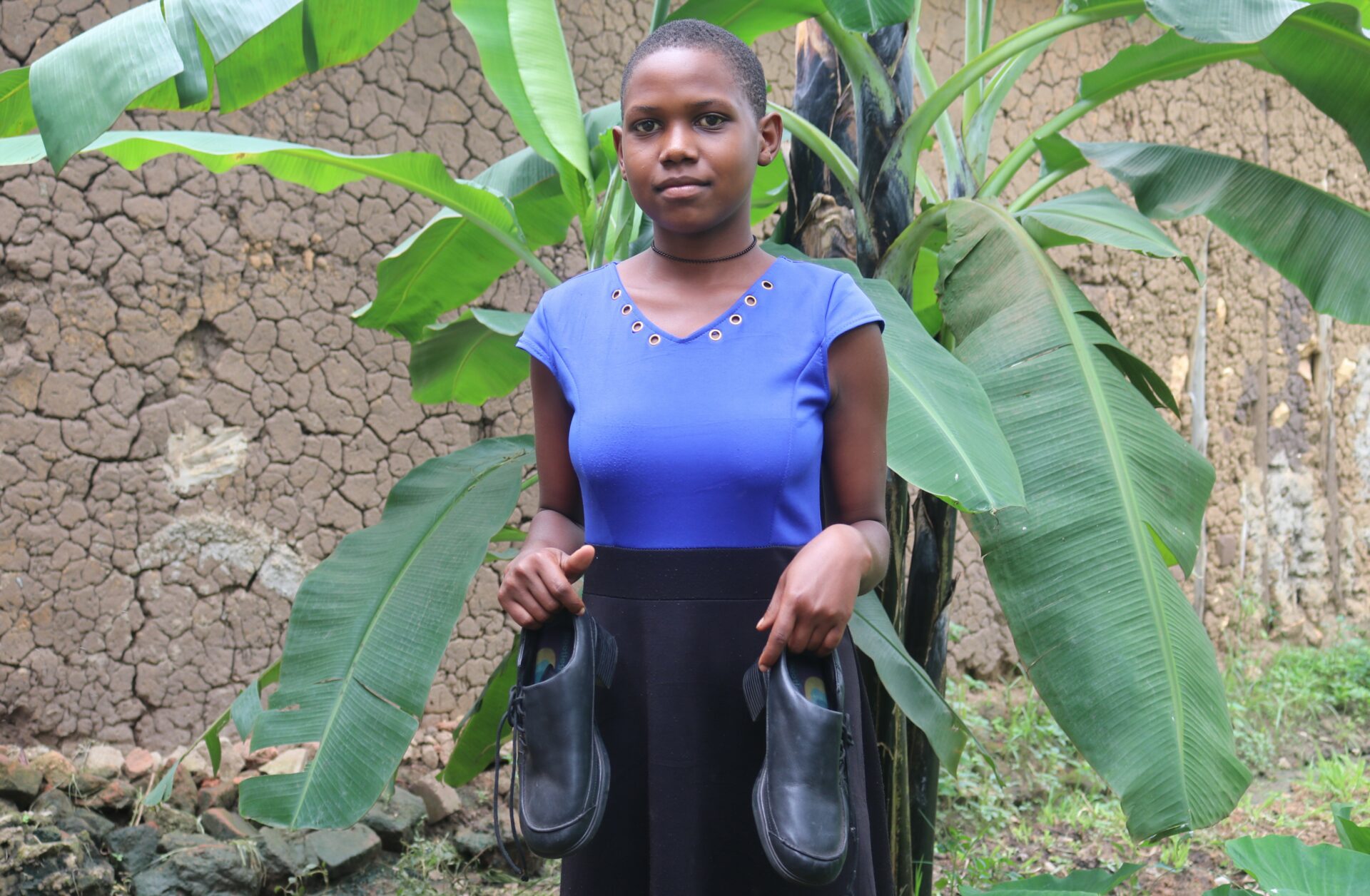 "One of my happiest times in my life was the day I received school shoes."
Masiko* lives with her grandmother and 14 other children (from a number of families) in an 'incomplete house' in the Mbale district of Uganda.
Right around the time Masiko was due to first start going to school, her father died. Her mother had no source of income and could not support the family, so she left them with their grandmother and moved away.
"My grandmother always tried her best, but she is elderly and weak and couldn't do much… so we always lacked food. Even when we got food we would only eat once in a day."
Despite her situation, Masiko was determined to go to school. She would often find a way to attend classes for a little while, before inevitably being sent home because she couldn't pay the school fees.
All of this changed when Masiko's aunt discovered CFM's child sponsorship program through her church.
"CFM have provided for me in so many ways. They pay my school fees and provide me with school materials, food and medical care. I have received gifts like a mattress and a blanket as well as other things. I am so grateful for them."
With fees paid and materials in hand, Masiko took to school with great enthusiasm and effort.
That was, until March last year when Uganda closed all schools in response to the outbreak of COVID-19.
Masiko has now gone almost 18 months without stepping foot inside a classroom.
The pandemic's impact on education across the world has been catastrophic.
During this time CFM (along with all our ministry partners) have worked to help children like Masiko continue their education by providing remote learning materials as well as support and encouragement via phone and home visits (when possible).
Schools are still closed in Uganda, but they are planning to reopen in the new year (this depends on the success of a program to vaccinate all teachers by then) and with some restrictions easing CFM has recently been able to visit the homes of sponsored children to check in on them and distribute school supplies.
These past 18 months Masiko has been determined to continue to her education (many others haven't – dropout rates across the world are staggering) but she's quick to admit it's been incredibly challenging. In fact, just before CFM arrived at her home, she was feeling particularly low.
So, it was a joy to see her delight when the CFM staff member handed her a special gift.
"My grandmother could never afford to buy me school shoes. I would always admire my friends at school wearing their school shoes and they have been one of my biggest desires. So, when I finally received school shoes, it was one of the happiest days of my life."
We're praying that it won't be long before Masiko is stepping those new shoes back into a classroom.
*Names and some details have been changed or omitted to protect those we serve.