Easter is one of the most central celebrations to our Christian faith. It's a time for us to remember the death and resurrection of Jesus – the events that secured our salvation.
This is true for our brothers and sisters overseas as well, and so recently, in the lead up to Easter, we caught up with some of our ministry partners to find out what Easter means to them and how they celebrate it.
---
Pytchen Kolanda from HEAL Africa in DR Congo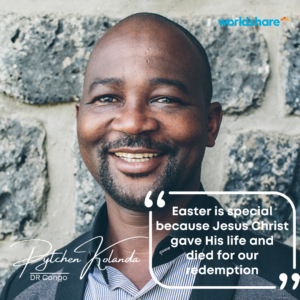 "Easter helps us to reflect, believe and experience the death and the resurrection of Jesus Christ from the dead. This is a message of hope when, as we experience injustice, suffering, poverty, hunger, we hear bad news and powerlessly assist the death of our relatives, killed every day in atrocities in our communities, we feel hopeless and disappointed. It is in such condition that Easter brings a message of Hope and resilience in the communities affected by conflicts. Jesus Christ is the resurrection and the life for all our dead situations we are passing through."
"After the Easter service, we share our joy by having lunch together. This is a special food and special drink that is shared with everyone attending the church service the day of Easter celebration as an expression of love, joy and fellowship as one Christian family no matter the fact we are physically from different families and communities, but we belong all to one family in Christ, that is called Christians."
Sem Sochetra from Sunshine Cambodia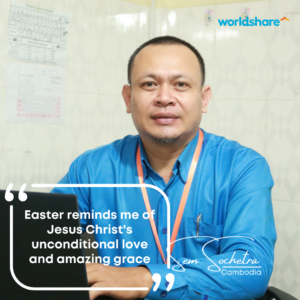 "For me, Easter is very important, because it reminds me of the unconditional love and amazing grace that the Lord Jesus Christ did for me as well as all people. He died to redeem me from the sins and rose again on the third day to give me the eternal life."
"Here in Cambodia, Christian families and churches in the communities, we celebrate Easter by making fellowship together, singing the Christian songs related to the death and resurrection of the Jesus Christ, spending time to pray together and having food fellowship."
Pastor John Wandera from Christian Fellowship Ministries in Uganda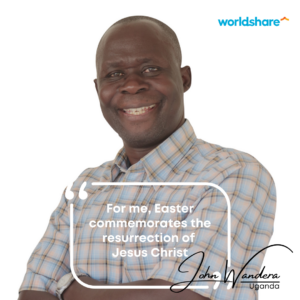 "For me, Easter is special because it represents the fulfilment of the Old Testament prophecies and the revelation of God's plan for the salvation of mankind. It also commemorates the resurrection of Jesus Christ, defeat of death and Satan".
"Here in Uganda, we celebrate Easter by, dressing smartly and going to church, eating special meals like rice, beef, chicken or turkey, and celebrating the victory Jesus acquired for us through His death and resurrection."
Jonathan Paul from Bangalore City Mission in India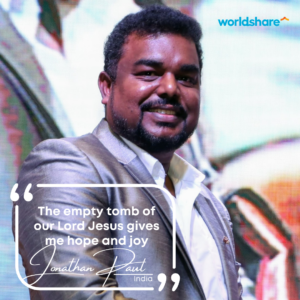 "During Easter, I remember that the whole world was created by Him, for Him and through Him (Col 1:16). Because Jesus rose from the dead, I have a hope of eternal life, a hope of being born again. That first Easter day, He did not walk alone into paradise but took a thief along with Him. I might just find a place there as well. On my darkest days, the empty tomb of our Lord Jesus gives me hope, joy and peace beyond all understanding, because I know that I have life in HIM."
"Here in Bangalore, India, we wish everyone at church a very happy Easter. New clothes are given to the kids. It is special to join and celebrate the joy of the empty tomb and the promise of Eternal life. Because Jesus lives, I can face tomorrow, because he lives, all fear is gone."
Charmant Mututa from Ephphatha Centre for the Deaf in DR Congo
"Easter is very special for us believers as we remember the work of salvation that Jesus did on the Cross.
Regardless of the different situations that daily life imposes on us, with Jesus, we are strong and hope to aspire to miracles and lasting solutions beyond our human efforts.
Easter makes us ambassadors of Christ.
Here at home in the DR Congo, many of the faithful celebrate the Easter festivity by exchanging gifts, sharing a meal in communion and baptising new believers.
Even the Congolese government has planned a day off for reconciliation on this occasion to allow faithful teachers and students to celebrate this holiday in a spirit of deep meditation and gratitude to God.
It's a good time to make a holy scene!"
---
If you would like to support the work of our ministry partners this Easter then there's still time to donate to our Easter appeal by clicking here.